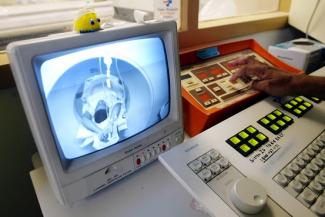 Heavy Use of Imaging Scans May Drive Up Costs—and Risks
by Barbara Sadick
Under pressure to rein in health-care costs, some physician groups and hospitals are turning to an area that has so far received little attention: cutting down on what many say is excessive diagnostic testing in the emergency room.
Studies have shown that the use of advanced imaging techniques and the costs associated with them have grown rapidly in emergency rooms since the 1990s, partly because of the widespread availability of the technology and an emphasis on getting patients out of the ER quickly. For instance, data from the National Center for Health Statistics show that between 2000 and 2010, the use of advanced imaging scans—either computed tomography (CT) or magnetic resonance imaging (MRI)—increased to 17% from 5% of all emergency-room visits.
But with concerns growing not only about the cost but also about the consequences of excessive testing on patients—some CT scans, for example, can deliver 100 times or more the radiation dose of a regular X-ray—some physicians, hospitals and medical societies are pushing for a better balance between the use of high-tech imaging in the ER and simpler, lower-risk techniques for making a diagnosis.
A Fine Line
"In our medical culture, doctors often talk about what more could have been done, but rarely talk about what less could have been done," says David Newman, director of clinical research in the department of emergency medicine at Mount Sinai Hospital in New York. When too many diagnostic tests are ordered, many false-positive results occur, he says, which can lead to more testing with risks to patients from radiation, dye injections and other unnecessary treatment.
Many ER doctors say the challenge for them is finding a reasonable balance between over-testing and missing a diagnosis in an atmosphere that puts them at high risk for medical liability.
ER doctors have been trained to rely on medical-imaging techniques, and many worry that reducing their use will affect the quality of care. Patients, too, often demand tests, widely believing that more testing is equivalent to better care. Under serious time pressures to meet patient-satisfaction goals, it can be easier for a doctor to order testing rather than spend time discussing the pros and cons of doing so with patients. The fact that ER doctors haven't seen many of their patients before, may not have access to their medical records and typically aren't involved in follow-up care also creates more urgency to pinpoint problems immediately in the ER, many of them say.
Momentum Grows
Despite those concerns, efforts to reduce unnecessary ER testing are gaining traction.
Last year, the American College of Emergency Physicians joined the American Board of Internal Medicine's Choosing Wisely campaign, a physician-led initiative designed to encourage conversation between doctors and patients about the risks and benefits of performing certain tests and procedures. One of the American College's first recommendations was that ER doctors should avoid doing CT scans on patients with minor head injuries who are at low risk for skull fracture and bleeding in the brain. By performing a thorough history and physical examination, doctors can safely determine who is at low risk, the group said.
Brigham and Women's Hospital in Boston, meanwhile, is among a group of hospitals that have embraced computer tools called "decision support" that help doctors determine what, if any, imaging tests are most appropriate for patients in the ER based on the latest scientific evidence. Jeremiah Schuur, an ER physician at the hospital, says doctors consult the tools when considering tests such as CT scans of the chest for pulmonary embolus and CT scans of the head for trauma.
According to Ramin Khorasani, vice chairman of the department of radiology at Brigham and Women's, the tools have led to a 33% reduction in the use of CT scans for every 1,000 patients that have visited the ER in the past five years. He expects programs like the one at Brigham and Women's to become more widespread over the next decade.
Big Savings
David Newman-Toker, associate professor of neurology at Johns Hopkins School of Medicine, says if the goal is to cut down on overtesting in the ER, more funding is needed for studies that show doctors how to correctly diagnose patients with the fewest tests, like the one he conducted on the use of imaging in patients who arrive at the ER complaining of dizziness.
That study, published last year in the journal Academic Emergency Medicine, found that a large percentage of the patients who come to the ER with severe dizziness are actually suffering from inner-ear problems, while only about 5% are having a stroke. Yet nearly half of them are given a CT scan of the head to rule out a stroke—even though CT scans aren't the best tool for diagnosing the vast majority of strokes early on, missing them more than 80% of the time, according to the study.
The researchers concluded that a simple bedside physical exam could identify the small number of patients who truly need imaging. By altering this one protocol of routinely ordering CT scans for dizziness, about a half-billion dollars could be saved every year, according to researchers, who said the cost of ER visits for dizziness totaled about $3.9 billion in 2011 and could reach $4.4 billion by 2015.
"A doctor's touch can often be more revealing, more helpful and more healing than any scan," says Mount Sinai's Dr. Newman. "At the bare minimum, a comprehensive history and physical examination, a typically benign exercise that creates bonding and occasionally makes diagnoses, should be a gateway to testing, allowing physicians to avoid the harms and excesses that generally accompany technological testing."
Source: The Wall Street Journal
url: http://online.wsj.com/news/articles/SB10001424052702303519404579354813030233586?mg=reno64-wsj&url=http%3A%2F%2Fonline.wsj.com%2Farticle%2FSB10001424052702303519404579354813030233586.html
Accessed 2/24/2014