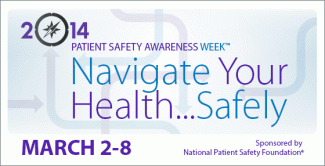 March 2-8, 2014
Patient Safety Awareness Week is an annual education and awareness campaign for health care safety led by NPSF.
Each year, health care organizations internationally take part in the event by prominently displaying the NPSF campaign logo and promotional materials within their organizations, creating awareness in the community, and utilizing NPSF educational resources among hospital staff and patients.
This year's theme is "Navigate Your Health…Safely." A patient's health journey often starts with diagnosis, but experts estimate that up to one in every 10 diagnoses is wrong, delayed, or missed completely and that, collectively, diagnostic errors may account for 40,000-80,000 deaths per year in the US. For Patient Safety Awareness Week 2014, NPSF has teamed up with the Society to Improve Diagnosis in Medicine (SIDM) to develop and disseminate educational materials for clinicians, health systems, and patients and consumers specifically related to better understanding and prevention of diagnostic errors. Check back soon for links and resources to download.
Source: National Patient Safety Foundation
url: http://www.npsf.org/events-forums/patient-safety-awareness-week/
Accessed 2/25/2014