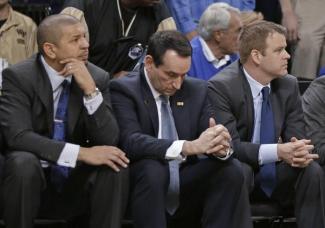 Duke coach Mike Krzyzewski experienced dizziness during a timeout early in the second half of Wednesday night's game at Wake Forest and did not conduct a his usual post-game press conference.
Duke associate head coach Steve Wojociechowski met with reporters in Krzyzewski's stead and the Duke head coach remained dizzy in the post-game locker room.
Duke's medical staff advised the 67-year-old Krzyzewski to stay in the locker room and receive treatment.
"He sends his apologies," Wojciechowski said. "He would like to be out here rather than me. He hopes you understand the situation. Us as a staff and we as a team, we expect a full recovery and we are certainly here in support of him."
Krzyzewski fell to a knee during the timeout and was helped back to the bench by Jose Fonseca, Duke's basketball athletic trainer. Fonseca stood behind Krzyzewski when play resumed before returning to his normal seat at the end of the bench when it appeared Krzyzewski was not in distress.
Krzyzewski continued to coach the second half of the game, which Wake Forest won 82-72.
After his players and coaches had left the locker room, Krzyzewski walked out of the room under his own power. He headed out of Lawrence Joel Veterans Memorial Coliseum to a car in which he rode back to Durham with Duke athletics director Kevin White.
Once in Durham, he was taken to Duke University Hosptial, where he went through precautionary tests. A statement released by Duke athletics at 2:37 a.m. Thursday said Krzyzewski's condition had improved considerably and that he was sent home.
"He has not been ill," Wojciechowski said after the game. "He's actually in as good a shape as can be. I just think the emotion of the game, obviously we weren't playing as well as we needed and there was a great emotional investment into the game. Maybe the emotion got the better of him. But we expect a full recovery."
Wojciechowski said Krzyzewski showed no signs of any dizziness in the first half. The first inkling came during the timeout when Krzyzewski fell to a knee.
Duke's players said they had seen no other indications of dizziness or lightheadedness from Krzyzewski.
"This was the first time," said sophomore forward Rodney Hood, one of Duke's three team captains.
But they noticed him trying to pull the team out of the funk that caused it to lose to the Demon Deacons.
"He was giving us a lot of his energy," Duke senior guard and team captain Tyler Thornton said. "We weren't reciprocating that."
Source: The Herald Sun
url: http://www.heraldsun.com/news/x1001073644/Coach-K-reportedly-OK-after-dizzy-spell-during-Wake-upset-of-Duke
Accessed 3/10/2014