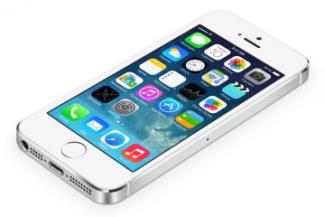 Update to iPhone and iPad software brings tweaks and improvements
Apple has updated its iPhone software to version 7.1, fixing a number of issues that had frustrated users - including abrupt crashes, problems reading fingerprints and vertigo effects for some. It also refines the software's appearance, boosts its speed on the iPhone 4, and adds options for photography and for choosing the gender of the voice of Siri, its built-in "assistant". 
Released almost exactly six months after iOS 7.0, the update also blocks an exploit which had been used to "jailbreak" phones, and solidifies a security fix introduced in February to prevent snooping on web sessions. 
The update fixes a number of complaints that people had had around iOS 7, whose interface was completely revamped from its predecessor released in September 2012, in a crash project led by chief designer Jonathan Ive and software chief Craig Federighi following their promotion in October 2012 as chief executive Tim Cook fired Scott Forstall, who had overseen all iOS development from before the first iPhone's launch. 
The update, of around 270MB, is available for free over the air. 
One of the key improvements consists of fixes to "Springboard", the background app which controls the home screen and the behaviour of background apps. Some users of iOS 7 found that their screen would abruptly show a black Apple icon on a white screen for a couple of seconds while they were using an app. After a few seconds, the phone would return to its "locked screen" state - indicating that it had not rebooted completely, but that the Springboard app had crashed. 
Another improvement listed by Apple is to Touch ID, its fingerprint recognition system built into the iPhone 5S. Some users have found that recognition is inconsistent; Apple's page for the update effectively acknowledges this, saying "Touch ID fingerprint recognition is improved". 
Apple also says that "iPhone 4 users" - using phones which may date back to June 2010 - "will enjoy improved responsiveness and performance". While iOS 7.0 did work on the iPhone 4, some effects such as translucency were turned off to save processing power, and apps launched more slowly, according to benchmarks by Ars Technica. Early reactions, such as Jon Moltz's, suggest that iPhone 4 performance has improved.
Reduction in motion
One accessibility tweak deals with the complaints that some users had about getting "motion sickness" from iOS 7's "zoom" effects. The "Reduce Motion" option in the Accessibility part of the Settings (Settings -> General -> Accessibility) will turn off zooming and movement in the Weather app, Messages app and the multitasking user interface animations.
Users of the top-end iPhone 5S will find that the camera automatically enables the HDR (high dynamic range) setting, which blends the best elements of three separate exposures into a single photo, and can give pictures a more realistic appearance because it mimics how the eye perceives scenes.
The update also brings numerous small tweaks to interface elements such as the phone icon, power-off slider, the "weight" of fonts and the built-in software keyboard.
There is a fix included for the "goto fail" bug which had meant that earlier versions of iOS 7.0 did not properly connect to secure sites over SSL.
The iOS 7.1 update also adds support for Apple's new CarPlay in-car connection. The system puts an iPhone 5, 5S or 5C at the heart of a car's information and entertainment system, connecting via the Lightning port and displaying an enlarged version of the iPhone's screen on the in-car displays.
CarPlay allows drivers to access music and radio content as well as turn-by-turn navigation through Apple maps, which will be able to anticipate destinations based on recent trips and information sifted from contacts, emails and text messages. Drivers can command the system using Siri for voice recognition, and have Siri place calls and read and reply to messages aloud.
Source: The Guardian
url: http://www.theguardian.com/technology/2014/mar/11/apple-ios-7-update-fixes-fingerprint-motion-sickness-iphone-4
Accessed 3/13/2014