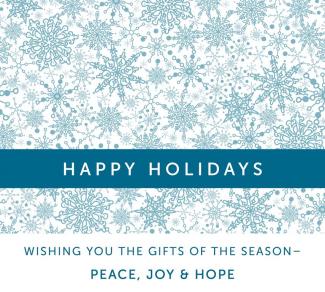 That's right, the holidays are just around the corner. For many of you this brings the hustle and bustle of family activities. For some it may also be accompanied by anxiety – what if your vestibular symptoms flare up? VeDA would like to offer you some tips and tools for coping with the holidays – click here to read our short publication, "Advice for the Holidays: Managing the Symptoms of a Vestibular Disorder." 
We would also like to thank you for your kindness and support this past year. Your donations and membership fees have helped VeDA reach out to hundreds of thousands of vestibular patients with a message of hope, providing information and support so they don't feel alone, especially during the holiday season. 
As you're making your holiday list, we'd like to encourage you to put VeDA at the top of that list and make a donation today. Why wait? Cross VeDA off your list before the holiday madness takes over and begin the new year knowing you've made a difference in the life of a vestibular patient who is struggling – literally and figuratively - for balance. 
We hope that you have received your letter, in which we shared the stories of two resilient vestibular patients, Cindy and Lora.  They are such an inspiration to all of us, and their stories demonstrate the importance of the work that VeDA does every day.  
(If you misplaced your letter, click here to read Cindy & Lora's stories.) 
There's still time to use the envelope enclosed with your letter to send us your year-end tax-deductible donation, or visit our secure website and make your donation online.  You may also contact development director Tony Staser at 503.294.9085 and he can assist you. 
VeDA's year-end campaign is critical to the programs and services we offer.  We are half way to our goal and need your help your reach it. We recognize that you have many worthy charities you may support, and we hope that VeDA is on your holiday list.  Remember, a donation of any amount is appreciated.
May peace be with you and your family during this holiday season. 
Sincerely, 
The VeDA Team